Arduino UNO Data Acquisition shield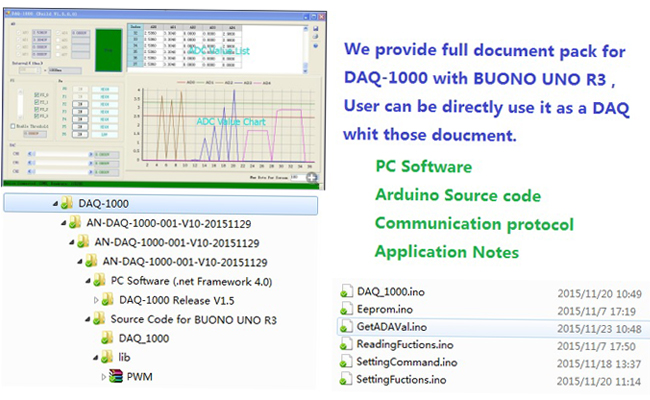 Low Cost Arduino UNO Data Acquisition Shield
Using the Arduino as a Really Inexpensive DAQ , Arduino UNO compatible.
8-CH 10bit (or 12bit) ADC
INHAOS Buono UNO R3 provide 8CH ADC interface, some compatible UNO only provided 6-CH ADC interface.
Most Arduino UNO R3 derivative board using Atmega328P as the main controller , which can be provided 10bit ADC resolutions.
Massduino UNO R3 LC using MD328D as the main controller , it's provided 12bit ADC resolutions.
7-CH Digital IO (Can be used for SPI interface)
Standard UNO pinout , used for standard IO or SPI interface.
Onboard 4.096V Precision Voltage Reference
Using Microchip MCP1541 4.096V precision voltage reference , with +/-50ppm temperature drift and max +-1% initial accuracy.
3-CH PWM DAC
3-CH PWM DAC , Arduino Pin_3 for DAC0, Pin_9 for DAC1 and Pin_10 for DAC2, DAC0 is fixed 8bit resolutions and DAC1/2 is 15bit resolutions.
The DAC2 can be configuration as the threshold source for Digital input.
4-CH Digital Input
Provided 4-CH digital input , with adjustable reference , two reference can be selectable , one is a multi ring precision potentiometer with manual adjust and one is DAC CH3, the reference voltage is select by a 3Pin jumper wire.